Content Management
ASEE Business Correspondence Software Suite - ABC
How to take back control over growing business content and improve compliance instead of slowing down the operations?
By using modern Content Services Platform (CSP) which allow organizations to handle their content effectively.
ASEE Business Correspondence (ABC) covers content lifespan, from creation, capture, and receiving, to automated workflow and case management, to collaboration, and both delivery and archiving.
ABC Offers configuration for specifics of each industry vertical, such as: government, banking, energy, other regulated industries. All of those businesses and institutions can rely on ABC to leverage the content for business values through services, as ABC delivers:
Strong security and data integrity
Compliance implementation
Organization's internal hierarchy implementation
Easiness of use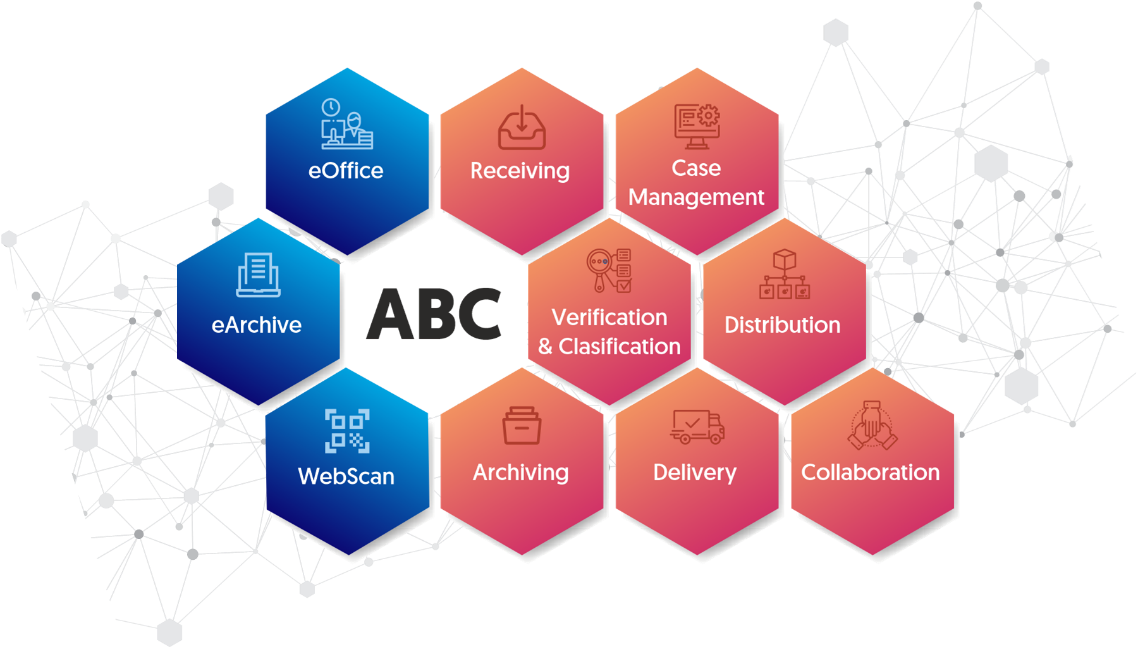 ABC is built for both storing content and preserving archived information. ABC supports identity and roles management, granular content access and visibility, and actions history for deep dive audit, featuring:
Rich out-of-the-box configuration and customizations
Built-in Business Process Management (BPM) engine
Adaptability in configuration to any type of business process
Full range of integrations through the powerful RESTful services
Modularity based on micro-services architecture
Rapid deployment thanks to container-based design and integration
Secure storage for the data and protection from unauthorized access
Powerful searches and data insight
Multi-tenancy support
Simple, easy to use, and responsive user interface
Multi-languages support
ABC Suite consists of the platform and 3 key applications:
ABC eOffice - a fully digital case management solution. It helps to optimize, re-design and automate structured or ad-hoc business processes, such as work procedures, decision making, opinions gathering, or approvals.
ABC eArchive - a state of the art digital archiving solution.
ABC WebScan - a modern web-based scanning application, that features processing of documents with rich options to manipulate and enhance the scanned document.
For custom-made projects, additional applications can be quickly developed utilizing the existing platform
ABC Platform– Infrastructure technology stack
Containerization platforms: Kubernetes, OpenShift
DBMS: MS SQL, Oracle database, PostgreSQL
Content repository platform: CMIS protocol-based solutions (e.g. OpenText Documentum, Alfresco CE/EE), S3 protocol-based storage (dedicated devices or cloud storage), Oracle WCC, Hitachi Content Platform HCP®
Public cloud platforms: Compatible with MS Azure, AWS, Google
For more information, download ABC brochure.