Revenues of Asseco SEE Group up 26% in Q1 2020
Very good quarter thanks to improvement in all segments
Highlights
Double-digit growth in sales revenues which amounted to EUR 52.5 million, up 26%
Revenues growth in all business units:

Revenues in Payment business unit totaling EUR 25 million, up by EUR 7.2 million
Sales in Banking business unit reaching EUR 9.3 million, up by EUR 0.4 million
Dedicated Solutions business unit –reaching EUR 18.2 million in Sales, up by4 million

Double-digit growth in net profit which reached EUR 5.4 million, up 24%
Double-digit growth in operating profit which totaled EUR 6.5 million, up 29%
Operating profitability amounting to 12.3%
Backlog amounting to EUR 176.9 million, up 33%
Warsaw, 29 April 2020. Asseco South Eastern Europe Group (WSE: ASEECOSEE, ASE) has announced first-quarter 2020 financial results which once again were better than the results in the corresponding period of the last year.
Revenues of ASEE Group in the first quarter of 2020 totaled EUR 52.5 million, up 26% compared with the corresponding period of the last year. Sales growth was recorded by all business units of the company. With the revenue of EUR 25 million, Payment business unit generated increase by EUR 7.2 million. The biggest growth (by EUR 5.5 million) was generated by the POS maintenance services business line, which matches the trend in the corresponding period last year. Sales revenues in the Banking business unit totaled EUR 9.3 million, with the business lines for mobile solutions as well as core banking and other software recording slightly higher revenues. The revenues growth of 18.7% was generated by Dedicated Solutions business unit amounting to EUR 18.2 million. Bigger sales revenues were recorded in infrastructure and third-party solutions as well as integration services.
- Very good performance of the ASEE Group in the first quarter of this year resulted from the improvement in all business units of the Group. Growing POS and eCommerce, including 3D secure, contribute to improving results of Payment, while higher efficiency translates to growth in profitability of Banking. We have also recorded better results in Dedicated solutions. With the acquisition of Bassilichi B&H, we are closing the process of taking over Bassilichi payment business in the region. I'd also like to mention that no significant impact of Covid-19 on the ASEE business has been recorded so far. We have taken necessary measures to ensure security and business continuity and introduced cost-saving actions to mitigate impact of the pandemic - commented Piotr Jeleński, President of the Management Board of Asseco South Eastern Europe S.A.
Operating profit of ASEE Group after the first quarter of 2020 was up by EUR 1.4 million (29%) and amounted to EUR 6.5 million. Operating profitability grew from 12.1% after the first three months of the previous year to 12.3% at the end of Q1 2020. ASEE Group's first-quarter net profit totaled EUR 5.4 million, up 24 % compared with the first three months of 2019.
The company announced backlog value for 2020 amounting to EUR 176.9 million, up 33% compared with the last year.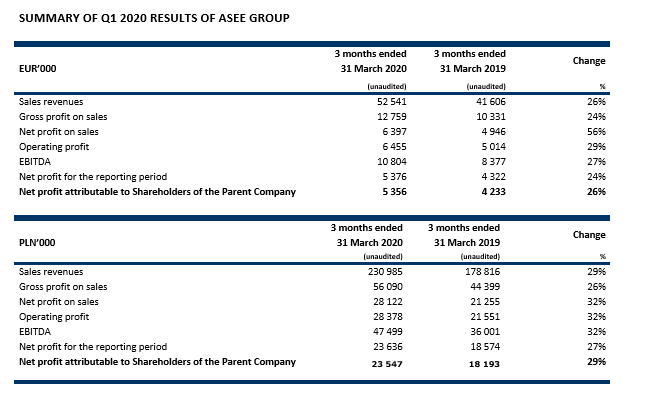 For details on potential impact of COVID-19 on ASEE business please refer to the financial statements and related presentation
---