Risk and Compliance
Tezauri DWH

Optimize your business processes through informed decision-making.
Since large volumes of data are available to businesses nowadays, the main issue is to organize, retrieve easily and use it for reports in order to make informed decisions. This is where the real value of Business Intelligence (BI) solutions and data warehouses lies – in up-to-date high quality data that provides information and supports you in making both tactical and strategic decisions, all the way towards optimized business procedures and processes.
Transform business data into business intelligence.
The role of data warehouses is complex and far-reaching. Beyond being a centralized storage location of data extracted from relevant bank's operational sources, Tezauri Data Warehouse (DWH) contributes to precise analytical reporting and intelligent decision-making. Its storage structure is designed to store large amounts of data and to allow quick data delivery. New data is accepted without changing the existing one, and information is placed in a manner suitable for reporting. In this way, all the information of an institution is integrated into a single version of the truth (SVOT) empowering you to understand and act upon clear and reliable reports tailored to your needs.
Achieve success with overall data insights.
All of Asseco Business Intelligence Solutions (Tezauri Risk,Tezauri Regulatory Reporting, Experience Scoring, Experience Funds Transfer Pricing, Experience Customer Analytics) can be seamlessly integrated with Tezauri DWH besides operating as stand-alone solutions, aiming to help businesses obtain maximum value from data insights, improve predictions and reach better decisions.

Description
Tezauri™ DWH is data repository - data model based on IBM IFW BDW platform. IBM IFW BDW contains all key components that are required for building the enterprise DW infrastructure and business models. IBM IFW BDW is a result of top consultants' work in the project of DW and BI solution implementation in more than 400 financial institutions all over the world. The knowledge and experience accumulated in these models is a kind of industrial standard for bank DW systems building. In addition to DW model, IBM BDW also keeps the models of specific applications (Application Solutions Templates), and, what is most important, the business models (Business Solution Templates) which is actually business models of banking business processes.
Functionality
Key Features
State of the art technology platform (IBM IFW BDW industry standard & Microsoft BI platform)
Functional architecture Tezauri ™ is divided into several modules (subsystems):
Data model, based on the IBM Banking Data Model as the basic and essential component of all Tezauri™ solutions
Subsystem for Data Integration
Subsystem for Data Analysis
Subsystem configuration, administration, monitoring and management of metadata
Subsystem Reporting
Key Benefits
Enterprise DW model provides integration of all information of the Financial institution - 'Single Version of Truth'
Standardised data management process
Secure, reliable, real time data available for all types of users tailored to their needs
Both tactical and strategic decision-making can be combined, analysed, and presented in a consistent manner
International and Local regulatory and statutory Compliance (Basel III, IFRS/IAS)
Feedback for operational systems functional improvement
Complete coverage of all business processes, data and technology
Solution Architecture is shown on the following picture: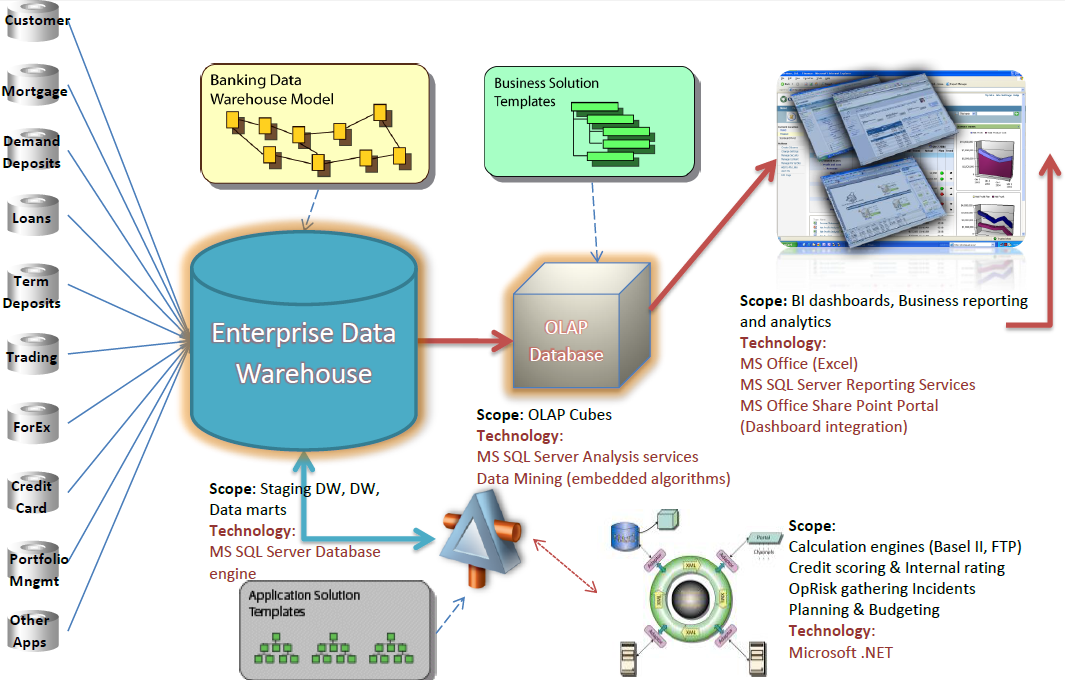 The Banking Data Warehouse Model combines the flexibility of a normalized relational structure with data warehouse specific structures and content. DWH transforms different operational business data sources into more suitable and revolutionary different architecture: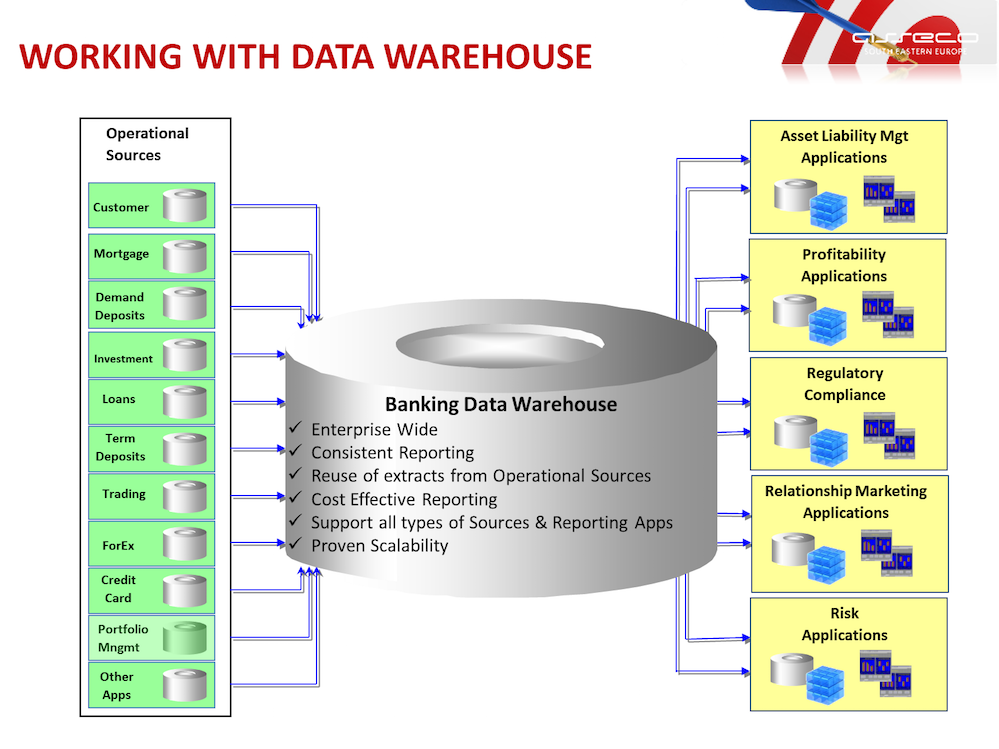 With this kind of architecture, BDW model provides great possibilities for consistent, consolidated reporting and get reports which are correct and mutually comparable because they are all based on the same core data. This model provides "single version of truth", that is one of the main goals of Data Warehouse.
The Banking Data Warehouse Model (BDWM) addresses and fulfils these characteristics.
Subject Oriented
The BDWM organizes data around a number of key business subjects, proven subjects on which to analyse, track and measure the business of a Financial Institution, for example: Involved Party (e.g. Customers), Product, Arrangement, Organization Unit and Channel.
The business subject focus of the BDWM differs from the data structures associated with typical Operational Systems, which by necessity are oriented towards applications such as Loans, Teller, Foreign Exchange, Account Processing, Credit Card, etc.
Integrated
To be effective, the data in a data warehouse must be organized to a common measurement and reference format. Banking Data Warehouse Model provides a structure for the consolidation of the many varied but inter-related activities of a Financial Institution. For example, BDWM has the structures to track profitability across the various branches in a Financial Institution. The same structure can also support such functions as credit exposure tracking on customers. While the two could be seen as separate functions they share related attributes and therefore the BDWM can supply the data to support both.
Non-Volatile
The Data Warehouse should be a stable decision-making oriented environment. The BDWM is designed to support such an environment. The focus is on data structures, which are not updated directly, but are populated periodically by upstream operational applications. The BDWM provides timestamps and identifiers for data being populated from such upstream systems.
Time-Oriented
As well as the ability to store much of the information in a detailed format, the BDWM has included a number of pre-defined summarizations (e.g. Average Balances for an Accounting object, Average number of transactions per customer, etc.), typically those that are most commonly needed by Financial Institutions in a Data Warehouse environment.
Financial Services Data Model
The FSDM is a generic model, defining data that is widely applicable to any financial services organization. The information reflected in the data model is independent of organizational structure and has been validated by multiple sources within the industry.
The model provides a framework for the development of consistent cross-enterprise data structures which promote information sharing across business applications. Since it provides a top-down view from an enterprise perspective, the FSDM provides a blueprint for database development as well as a tool for understanding and communicating the enterprise information resources of the major business activities of a generic financial services organization.
The Nine Data Concepts
Each of the data items in the FSDM is categorized as belonging to one of the nine data concepts. The core idea is that every business process in financial organizations could be described by using the one or more of these data concepts and their mutual relationships.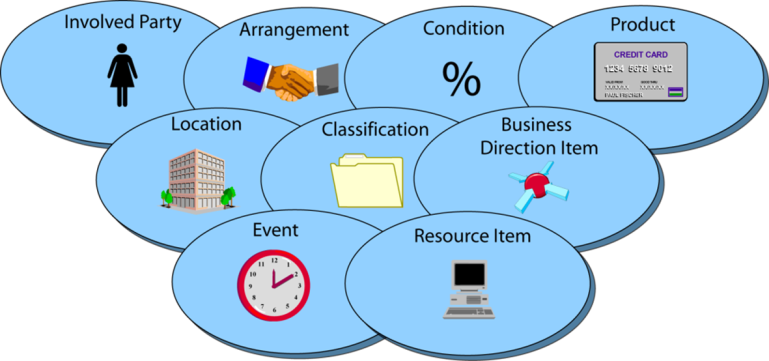 DWH Logical Parts
A Data warehouse is a backbone of the entire BI solution architecture. Moreover, the data warehouse is intended to be a reference repository of an organization's electronically stored data.
Tezauri™ represents integrated banking business intelligence solution, which provides all-inclusive, useful, timely and high-quality information according to needs of all management levels in the bank.
DWH - Hardware & Software Platform
Tezauri™ is based on multi-tier architecture consisting of three layers:
Server side layer
Responsible for all data processing, analysis and calculations, report rendering and report delivery.
Implementation/maintenance environment
Used during implementation process for customization and configuration of existing software modules and components. Afterwards, this environment can be used for Tezauri™ administration and maintenance.
Client-side layer
End user workstations are part of client side tier. End users access Tezauri™
Tezauri™ using special front end components. Client side workstations are used by Bank's business users to access Tezauri™ reporting system.
Information Security and Access Control
Our solution is composed of several applications and subsystems that are grouped into two main categories:
Front-end Tezauri™ dashboard (with all reports) - dedicated to business users
Back-end applications and subsystems- used by system administrators, implementation team members and maintenance team members.
Two authorization scenarios are offered:
Default authorization based on Active Directory
Advanced authorization based on AAA solution.