Asseco SEE Romania, Gold Partner at the Microsoft Summit fourth edition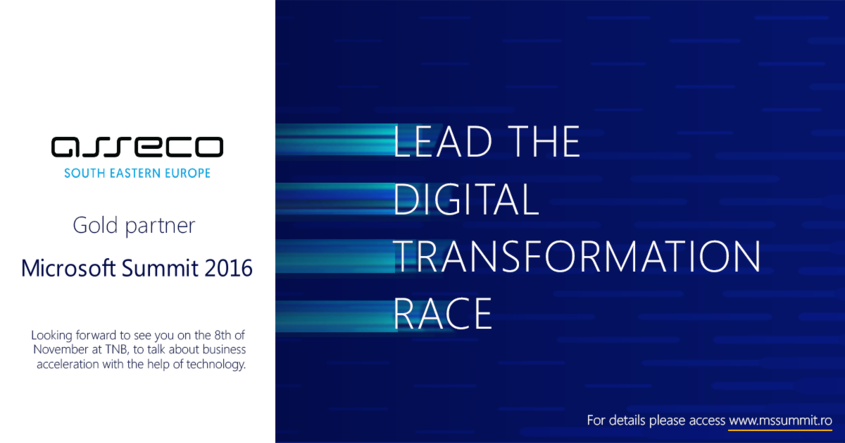 Asseco SEE, one of the largest IT solution integrators in Romania, joins the Microsoft Summit 2016 event, organised on 08 November at the National Theatre in Bucharest, as Gold Partner.
Reaching the fourth edition, Microsoft Summit has become the most important business and technology annual event in Romania over the years. 2016 edition theme "Digital Transformation"- addresses the changes brought to the business environment by the digital now. Digital transformation is not just a technological breakthrough, but the adoption of a new vision on the business model. A vision that puts together people, data and technology to add value to products, companies and communication with clients, but also comes with the new agility, security and transparency challenges.
"Participation as a Gold Partner in Microsoft Summit 2016 confirms once again our commitment in the partnership with Microsoft and to our clients. This year, we have prepared at the Asseco stand a series of scenarios based on the Asseco solutions developed on the Microsoft platform, through which we actively contribute to the evolution and transformation of the companies locally. In addition, our team will be present at the stand to answer all questions related to Microsoft technology", says Karina Cireap, Software Sales, Asseco SEE.
In Romania, Asseco SEE has the status of Microsoft Licensing Solutions Partner (formerly known as Large Account Reseller) with competences at local level: Gold Cloud Platform, Gold Cloud Productivity, Gold Software Asset Management, Gold Volume Licensing, Gold Data Center, Silver Data Platform, Silver Communications, Silver Messaging. The company was recently reconfirmed by Microsoft as a top strategic partner, by being awarded distinction "Best Enterprise Industry Solution", awarded for the outstanding results obtained during the Microsoft fiscal year 2016 (July 2015 - June 2016) in positioning, selling and implementing Microsoft solutions tailored to the needs of the companies working in various industries.
---