Net Profit of Asseco SEE Group up 58% in Q1 2019
Significant improvement in all business units of Asseco SEE Group as well as Necomplus consolidation led to spectacular results
Highlights
Double-digit growth in sales revenues which amounted to EUR 41.6 million, up 25%

Double-digit sales revenues growth in System Integration business unit – revenues reaching EUR 14.8 million, up 52%
Double-digit sales revenues growth in Banking business unit – revenues reaching EUR 9 million, up over 16%
Double-digit sales revenues growth in Payment business unit – revenues totaling EUR 17.9 million, up 13%

Double-digit growth in net profit which reached EUR 4.3 million, up 58%
Double-digit growth in operating profit which totaled EUR 4.9 million, up 58%
Operating profitability amounting to 11,9%
Backlog amounting to EUR 111.4 million, up 11%
Warsaw, 9 May 2019. Asseco South Eastern Europe Group, (WSE: ASEECOSEE, ASE) has announced first-quarter 2019 financial results which once again were better than the results in the corresponding period of the last year.
Sales revenues of ASEE Group in the first quarter totaled EUR 41.6 million, up 25% compared with the corresponding period of the last year. Double-digit sales revenues growth was recorded by all business units of the company. Additionally the consolidation of Necomplus companies' results since 1 February contributed to this growth. Sales revenues of Necomplus amounted to EUR 4.5 million in February and March and were included in their bigger part in the results of the Payment business unit of ASEE Group and smaller part was included in the System Integration business unit results. The biggest organic sales revenues growth, up 52%, was generated by System Integration business unit. After the first three months of 2019 they amounted to EUR 14.8 million, out of which the biggest growth was achieved by ASEE proprietary solutions. The second biggest sales revenue growth (by EUR 2.1 million), up 13% compared with the same period of the last year, was generated by the Payment business unit and amounted to EUR 17.9 million. The biggest growth (by EUR 2.3 million) was generated by the POS maintenance services business line which also included bigger part of Necomplus sales revenues. Bigger revenues growth was also achieved by eCommerce and card Processing business lines. Sales revenues in the Banking business unit totaled EUR 9 million, up 16% (EUR 1.3 million) compared with the same period of the previous year. The increase was recorded in all business lines with mobile solutions in Croatia being the leader.
Such a good performance of the ASEE Group in the first quarter of this year resulted from the improvement in all business units of the Group, especially System Integration and Banking. It was also a very good quarter for our e-Commerce solutions. Since 1 February we have also been consolidating the results of Necomplus companies - commented Piotr Jeleński, President of the Management Board of Asseco South Eastern Europe S.A.
Operating profit of ASEE Group after the first quarter of 2019 was up by EUR 1.8 million (58%) and amounted to EUR 4.9 million. Operating profitability grew from 9.4% after the first three month of the previous year to 11.9% at the end of Q1 2019. The increase in profitability was visible in all business units with the biggest amounts in System Integration and Banking business units. The ASEE Group's first-quarter net profit totaled EUR 4.3 million, up 58 % compared with the first three months of 2018.
The company announced backlog value for 2019 amounting to EUR 111.4 million, up 11% compared with the last year.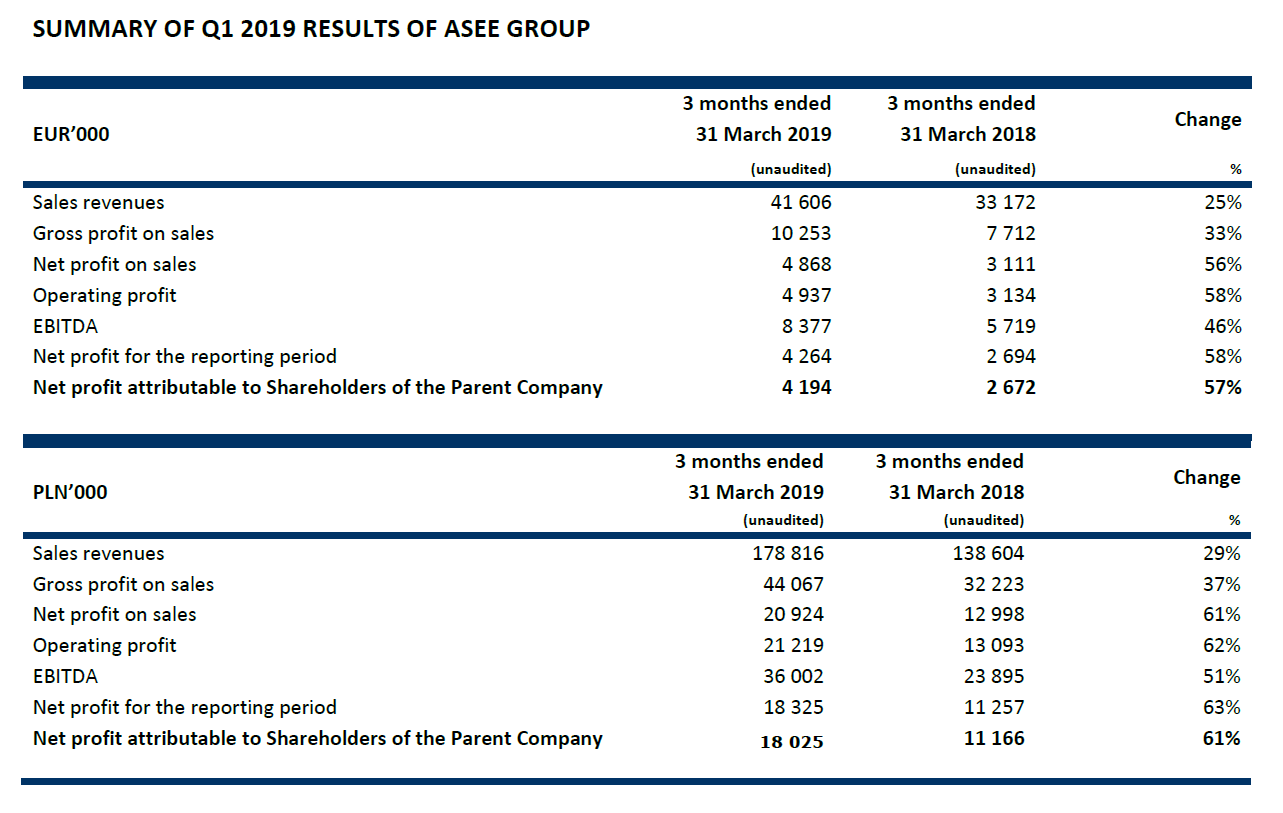 ---