Omnichannel sales and servicing
Digital Origination – Omni-channel sales, onboarding and underwriting solution

Sell Complex Banking Products Online with the Ease of a Webshop!
Digital Origination is a sales and underwriting system that provides full flexibility in offering of bank products, services and bundles, enabling short time to market and full control and transparency of origination processes for both assisted and self-service touchpoints. Thanks to its open architecture, embedded AI capabilities and brand-new technology stack, it is strong accelerator of digital transformation, wide open for innovations and extensive third-party integrations. Digital Origination provides consistent and personalized user experience on all screen sizes – desktop, tablet and mobile.
Key Benefits of Digital Origination:
True omni-channel solution – single effort with immediate effect on multiple channels
Bundle sale – offer single and combined banking products online in one go, including, but not limited to lending products
Automated risk assessment and loan decision
Flexible product catalogue with rule-based pricing, optimized for each customer
AI module with behavioral segmentation, next best offer and smart product suggestions to boost your digital sales up to 20-30%!
Customer onboarding in less then 10 minutes
100% compliant with KYC and AML regulations
Cost-effective integration with existing channels and other involved systems
Level of digitalization adapted to your needs – ranging from fully digital to semi digital onboarding and sales process, to fit every bank's needs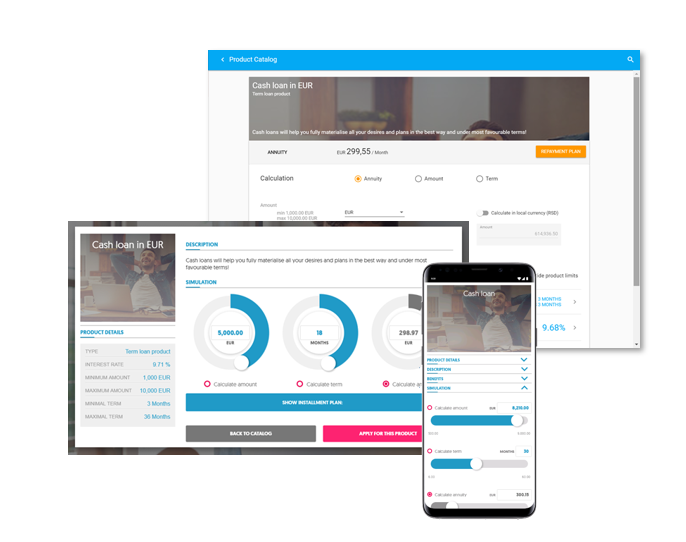 Loan gamification for frictionless process
Technical Advantages of Digital Origination:
Cloud native architecture based on microservices
Automated deployment based on infrastructure as a code principle
Scalable and highly available
Agility, without compromising stability
BPM and Decision Engine included
Demo available
Given the fast forwarded need to move banking fully online, it is becoming essential to enable effective digital banking sales and onboarding. However, the reality poses many challenges – from highly regulated procedures in line with local legislation, which make the process complex, to legacy systems and IT infrastructure banks might have.
With our extensive experience in banking, we can tacke any legacy system and work with our clients to plan for the optimal level of digitalization and provide easy to use, multichannel sales system especially designed for banking industry.